Okay so every week, I have a goal to make something new and from scratch. Last week I made cereal bars. I was going to make homemade yogurt this week, and I may still, but my priority has moved to baking homemade bread. Since I started staying home, we eat 2-3 loaves a week. At $1.69 for whole grain bread, that starts to add up when your budget is $60 a week. Why am I spending that money on crappy bread when I could make it myself?
I have no good answer to that question, so I might as well try to make it from scratch.
I don't have a bread maker though which stinks. I used to, but when we were robbed last year, it was stolen. So I have to make it without a bread maker. Luckily, that's the way it was done for thousands of years so there are a few recipes out there! :) I want my bread to look like this: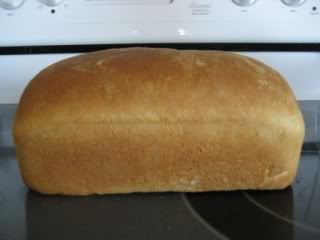 So I'm going to use the recipe that I found on
here.
It's from
The Simple Dollar
, which I've never been to before but a quick glance at it proves that it may be interesting! I'll have to take a closer look at it and see what I can find. I'm going to start out making a white loaf, like the author suggested but I will have to figure out how to make whole wheat because that's what we eat. We may eat thrifty, but I try to make it as healthy as can be.
I'm excited about this though. Wednesday is my grocery shopping day so I'm going to get yeast then, and I know I need more flour because of all the baking I've been doing (ick, my jeans are feeling a little tight today, better exercise!). I really hope my bread looks that pretty, and I hope it works!
I
may
still try yogurt but I don't know. Only if I have the time and/or patience. I know, it's terrible. You'd think I would have more time...sure I do, but it's spend chasing around my 16 month old who thinks she's Wonder Woman!! Plus, we're packing and I have a paper to write that is due on Friday! Busy, busy week!!
I'll let you all know how my bread baking goes! Wish me luck!